Every skill has its most fundamental tool required to carry out the simplest of tasks. For wood carving, that's the whittling knife.
From humble beginnings to intricate carve-outs that resemble the likes of Da Vinci, the whittling knife proves to be the most important and versatile tool in any carver's collections.
But which is the best whittling pocket knife? It's hard to say since different handles and blade lengths will come in handy at different points in your carving.
We can't tell you definitively which is the best for each project, but we can tell you what the five top whittling knives are overall.
Whether you're just getting started or you're a seasoned professional, it's time to equip yourself with a proper whittling knife. Let's take a look.
Best Whittling Knife Reviews & Recommendations For 2019
Best Whittling Knife Overall: BeaverCraft S15 Whittling Knife Set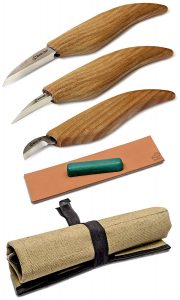 Can't decide on just one? Well, this set of three will have you set for a while. Each whittling pocket knife comes with an ergonomic handle that feels positively comfortable in your hand.
These blades are made out of high carbon steel, which means you won't have to sharpen them for quite some time.
High carbon is usually a coating for the stainless steel grade underneath, so after your sharpen this one or two times, some of the carbon might be gone. It will still be a properly sharp knife, carbon is just resistant to dulling which is why many blades are coated in it.
Everything comes in a roll-up with appropriate slots inside, so you'll be able to stash everything within thirty seconds for easy cleanup. The cloth protects the blades from erosion and oxidation.
If you're not absolutely enamored with this kit, then BeaverCraft is going to issue you a full refund if you act in the first thirty days. Full money-back, no questions asked.
BeaverCraft is also known for having some of the best customer service out there for wood carving and woodworking tools. You'll be heard, no matter the grievance.
Runner Up: Morakniv Wood Carving Knife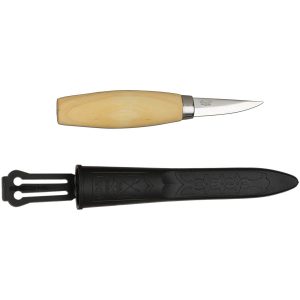 Morakniv is like the luxury whittling knife you never knew you needed.
Much like competitors, they use a laminated stainless steel blade. It's not laminated like a plastic coating on a piece of paper; it's multiple layers of steel that make up the blade.
This makes it better for sharpening, and keeps your blade for longer. Morakniv includes a sheath with your purchase as well, making it simple to store and keep safe from damage.
Your handle is crafted from sturdy birchwood and oiled to perfection. It retains the right amount of moisture and is completely sealed, so you'll only have to reseal it every five years or so.
Morakniv includes a limited lifetime warranty with this purchase. With 2.4" of blade, you've got plenty of length to carve through thick wood for intricate designs.
These all come separate; there's no kit for them (currently), but Morakniv's line of individual wood carving tools work best when grouped together. As a matter of fact, another one of their lineup is on this list.
Honorable Mention: BeaverCraft C13 Whittling Knife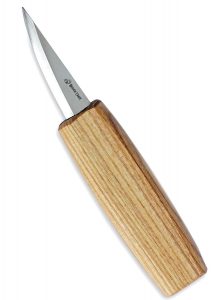 No two wood carving wood knife brands are made the same, but BeaverCraft and Morakniv come damn close.
We couldn't help ourselves from including another one of their fantastic knives on this list. The C13 is basically your perfect go-between knife for all the little tidbits of your project that larger knives can't handle.
Much like other knives, this comes with a high carbon steel blade. Longer time in between initial sharpenings, more durability on the blade (plus corrosion resistance).
The comfortable ergonomic handle helps you out with keeping control and reducing hand fatigue during long projects. Squeezing a handle for 45 minutes or longer can strain your tendons, which is why BeaverCraft crafted this handle to contour to your hand's natural shape.
Last but not least, you'll get a free eBook as an introduction to wood carving with your purchase. BeaverCraft's customer service is excellent, so even when a third of purchasers didn't receive their eBook right away, customer service took care of everything in a jif.
Best Pocket Whittling Knife: Flexcut Whittlin' Jack Knife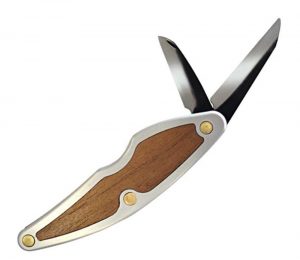 Even just looking at this, you have to admit that it's pretty cool. Built on the foundation of a basic pocket knife with a flip-out design, Whittlin' Jack is one of the best knives you'll ever own, carving or otherwise.
This folding whittling knife comes with a 1.5" and a 2" blade, each with slightly different thicknesses as well.
High carbon blades reduce your initial number of sharpening sessions, and keep the metal safe from corrosion for a couple of years. After that point, proper storage, handling and TLC will take care of the rest.
Your handle is a mixture of steel and walnut wood, so you'll get a familiar feeling if you've ever had to use a pocket knife or box cutters in the past.
As an unconventional bonus, if you ever needed to carry something around for personal protection, this would do the trick. Most states have laws about blades longer than 3 ¼", but this falls far beneath that threshold.
Flexcut is known for their exceptional products, but their customer service can be a hit or miss as a fair warning. Everything here is made in the United States.
Best Hook Knife: Morakniv Wood Carving Hook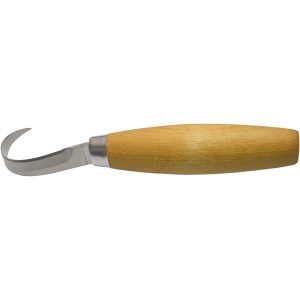 The Swedish make better versions of just about everything, and whittling tools arte no exception. Swedish stainless steel (grade 12C27) is built tough as nails, and will last you for ages.
Morakniv's hook is used for multiple different wood whittling projects, including smoothing out geometric handles on wooden spoons, or making small projects a little bit smoother and rounded.
You know the drill—high corrosion resistance, high hardness rating on the steel, and durability beyond compare.
The blade itself is one-sided, so you can't accidentally harm yourself on the pull back. The internal radius of the hook area is 0.5", which is better suited for smaller projects.
Hook knives are primarily used for carving perfectly round holes in wood, as well as trimming down thinner projects.
Last but not least, we have to mention the birchwood handle and its perfect design that reduces hand strain with its excellent design. Even if you grip near the blade, there's still excellent control.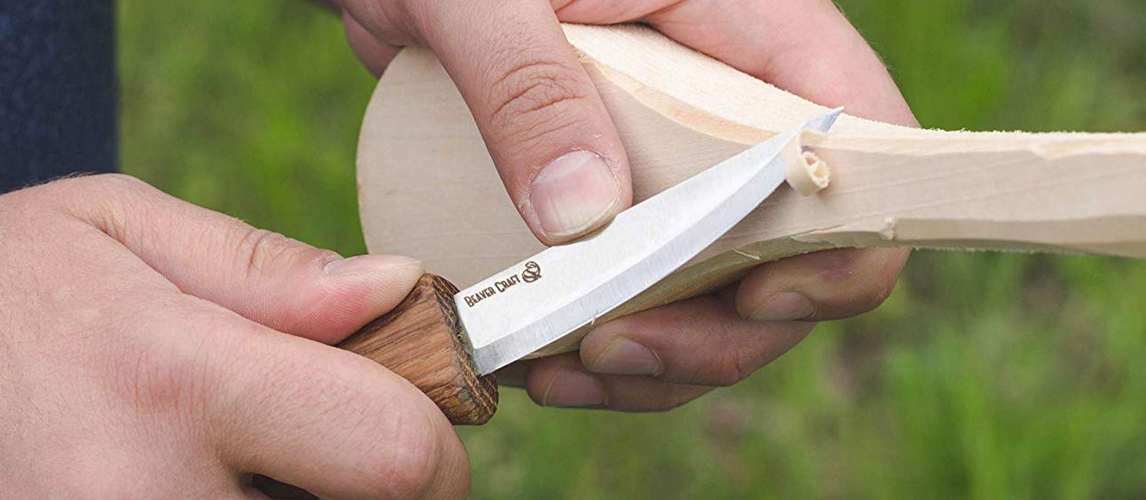 What is the Difference Between Wood Carving and Whittling?
Carving refers to removing of the wood, but whittling is specifically removal of the wood through shaving or slicing with a knife.
You can carve wood by making divots, using electric dremels, or running a gouge through it, but whittling is gradually reducing the wood with a sharp blade until it turns into what you want.
Consider it like letting a block of ice melt until it reveals the perfect sculpture underneath that you were going for.
Carving is the blanket term for a ton of different tools collaborating on the same project. You can use just about anything to carve wood, but whittling signifies "Oh, so you're bringing a knife against wood and shaving it down."
There's a little bit of debate in the wood carving world about the terminology, but basically, if you have a wood carving knife of any sort, you can whittle with it.
The only difference is that knives that are marketed as whittling knives have one-sided, usually angled blades that work better at shaving down wood. They will make the job easier than your run-of-the-mill wood carving or detail knife.
What Makes a Good Wood Carving Knife?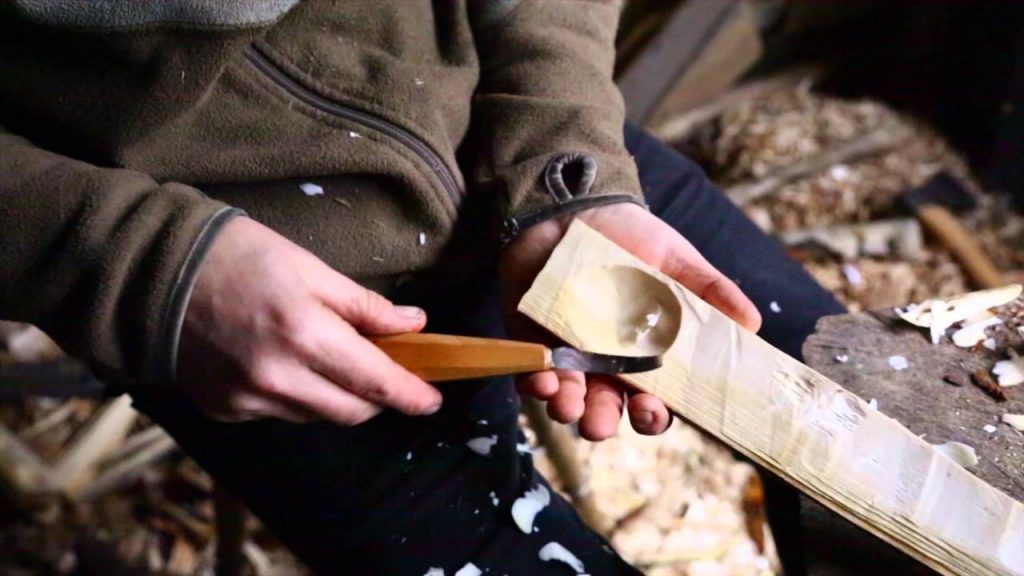 There's three main parts that define a good wood carving knife or whittling knife.
First and foremost is the blade. Where would you be without it?
You need high quality metal that's easy to sharpen, as well as a razor sharpness (angle) that can cut through hardwood like oak, but easily glide through softwood like pine.
Stainless steel is best for this. You'll see high carbon stainless steel or chrome vanadium steel. Those are all excellent alloys and serve their own functions.
Next is the angling of the blade. Is it a drop point or a bevel? Bevels are when a knife symmetrically bows inward at the edge to reach an apex, but a drop point knife (or straight edge knife as some call it) is flat on one side, and the slope on the other side makes the edge.
The latter is good for whittling, whereas a bevel would be best suited for a chisel or kitchen cutlery knives.
Last is the handle. It may not sound important, but it is. Whether it's made out of birchwood or oak isn't really the concern; it's the shape and finish.
If the finish feels good in your hand and isn't too slippery, that's great.
If the handle is ergonomically designed to contour to your hand's natural shape, or at the very least, not be so straight and rigid, then it's a good knife.
You may get super particular about your knife and how it feels, but as long as these three things are in check, you've got a good pocket knife for whittling.
What Are Some Good Whittling Projects?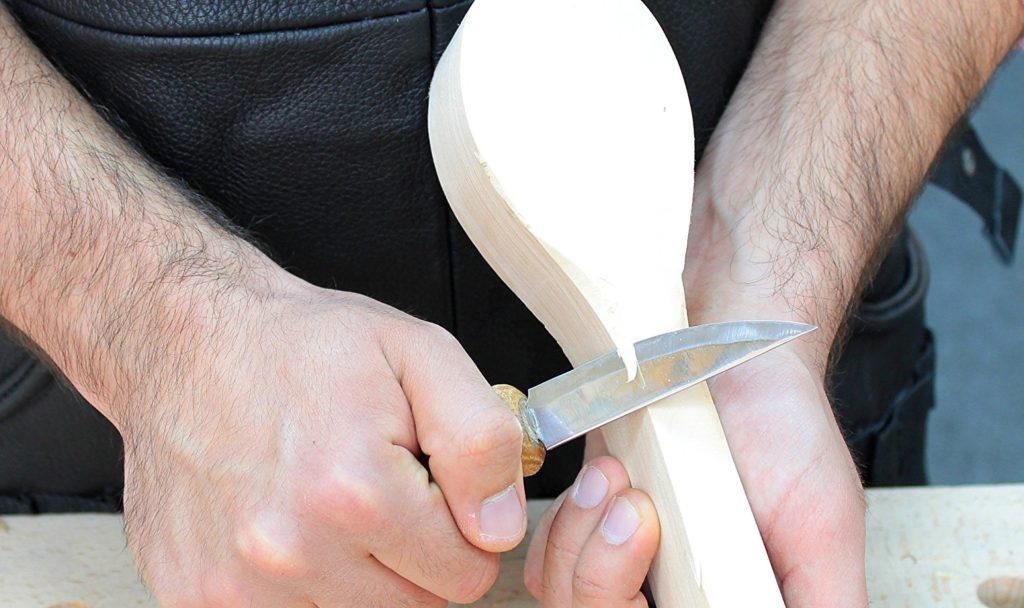 Just to get started, take a crack at these with your whittling knives, and make something amazing.
Those are just some beginner projects that you can jump right into. The limits are seemingly endless.
Whittling isn't everything in wood carving, but it is a big part of it. Use whittling with chip carving and even wood burning to create some truly fantastic pieces of art.
What Kind of Wood is Best for Whittling?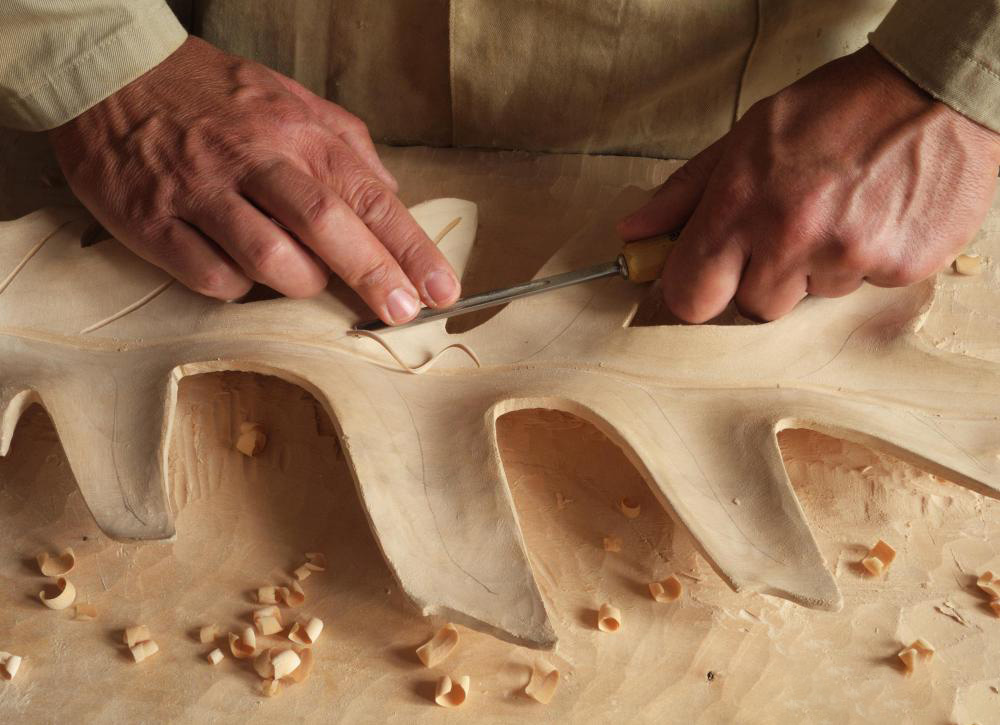 Not sure what to start with? There are tons of viable wood types for whittling, whether the project is big or small. Those include the following:
Whittling knives are really what started it all (or at least, the process of whittling wood with a knife).
They're not only the ultimate tool for your wood carving arsenal, but they're the closest you're going to get to basic wood carving. The only way you could get any closer is if you used random sharp rocks from outside to whittle down wood.
These knives all share one thing in common: they have a place in your carving shop. Who says you just get to have one? When a blade runs dull or you want a specific feel, you can just reach for your second in command.
Now that you've seen the cream of the crop, and found some time to inspect the most commonly asked questions, it's time to make your decision.
Side with steel, a well-oiled handle, and get a grip on your next project right from the get-go.
You've got this.
Did you like the article? Please rate it: