You decided it's time to try your hand at wood carving, or you're a novice that's coming back to get a better grip on what tools you should have in your carving kit. 
Either way, everything you need to know about your kit is here, from why the steel blades need to be laminated, to the benefit of authentic Japanese wood carving tools. 
We've spared no expense in researching, investigating and testing each of these tools for ourselves, and we've come up with a finalized list of the top five best wood carving tools available on the market.
Best Wood Carving Reviews & Recommendations For 2019
Mikisyo Power Grip Carving Tools

Wood carving has a lot of Japanese roots.
They've helped to perfect this art over the centuries, and these authentic Japanese import wood carving tools help you create intricate pieces of work you've seen in magazines.
Seven pieces is all you need to get started and make some truly great creations.
Every stainless steel blade comes fully laminated, which helps to protect it from damage and give that nice smooth finish you're after in your wood carving projects.
The blades can be great, but what about your dexterity?
Mikisyo took care of that worry by making a soft hourglass handle the bows in, creating the perfect point of contact for your palms.
This kit offers better control over your carving outcome, pure and simple. You'll get two separate rounds, a 3mm and a 6mm to take care of larger pieces of wood with ease.
So what is it about this kit that makes it our number one?
It's affordable. It's versatile. You get everything you need, as well as a great case to keep it all in. It's a full package deal: open the box, and just start carving right away.
Mikiyso uses oak handles in their full-sized carving tools. Inspect them annually to see if they need to be sealed or polyurethaned again.
Imotechom 12-Piece Wood Carving Set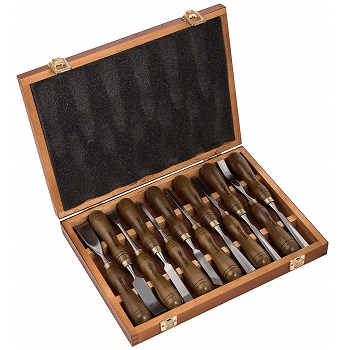 Now this is a beautiful wood carving kit in every aspect: the case, the handles, and the shine of those blades.
Imotechom didn't go with the traditional stainless steel. Instead, they chose chrome-vanadium blades, which don't need to be sharpened as often as steel.
Those blades reest on designed walnut handles, each with a light curve that bends in to your palm's point of contact.
Let's talk about the case. It's shipped in EPE protection to ensure the blades aren't tarnished, and the case itself comes with a perfect two-beam inlay to place your tools in.
Foam along the top keeps them tight in their places so there's no rattling around when moving the case around.
While we love this kit, we recommend that you inspect each piece upon arrival. There are no quality issues, but you might need to sharpen a few tools before putting them to good use.
Everything about this kit works well, but do expect the price to reflect it. 
We would rate this as an intermediate kit for users with slight experience, or those who want to get an advantage right from the beginning of their wood carving journey.
SCHAAF Full Size Wood Carving Tools

SCHAAF made the wood carving tools beginner carvers love, because they're no-fuss, no-muss kind of people.
While these are aesthetic wood carving tools, they're all about function over everything else. 
The ash wood handles look good, and the geometric handle shapes help out, but not as much as an inlay would;
These are still easy to handle, just not as easy as others. The vanadium steel blades are what you're here for, and what justifies the investment cost.
Your kit comes in a tool roll, complete with plastic tips to keep these sharp during shipping. 
You may need to inspect the sharpness of each tool upon arrival, but you should do that with any carving kit you order anyway.
The kit comes with a digital item as well: an eBook on a beginner's guide to carving. 
While the book is informational and definitely a great addition to the bundle, you may have to contact customer service to receive it if it isn't automatically emailed to you during the time of purchase.
SCHAAF is about informing beginners at wood carving, and giving them the strongest blades possible that will last a lifetime. 
With an annual sharpening, these should last you for your entire wood carving career.
BeaverCraft S16 Carving Kit

As far as wood carving beginner kits, this one takes the cake. You're given three simple, albeit powerful tools that can fill many roles in your wood carving projects.
The roughing knife helps you remove excess wood to fall in line with your design; the cutting knife is a bridge between removing excess and providing fine detail; the detail knife does exactly as you'd imagine, with small and precise cuts and a sharp 23° angled bevel.
Normally, we wouldn't say that three tools could do the job of a dozen, but in this case it's true. 
The benefit of going with a smaller kit like this is that everything is intimate; you're going through every individual motion in close detail.
That does mean it takes longer to achieve your goals given the length of the blades. 
For the best possible outcome for your projects, pair this with a wood chip kit and/or a separate wood carving chisel and rubber mallet.
Mamar Pine Wood Carving and Whittling Kit

Last but not least, this inexpensive precision tool kit comes with a series of ergonomic, sealed pine wood handles for the best possible dexterity during your carving.
The handles are a bit narrow, so you'll have to keep a firm grip on them. 
Handle your coated carbon steel blades with precision, and switch out between the 12 different included tools to fine-tune the details that you want.
Our personal experience with this kit is that you get what you pay for. 
Yes, it's a lot of tools for a low cost, but it's not a forever purchase; it's to get started without spending a lot of money on a new hobby, but it's not an investment.
Your kit includes a few pieces of wood to get started with, a roll-up to store your tools, and a 30-day money-back guarantee if you're not enjoying the kit. 
Mamar's customer service is excellent and they'll answer any questions you have. 
This kit is for beginners who may or may not upgrade after deciding if they like wood carving, making it a great gift idea as well.

What is the Purpose of Wood Carving?
To create something. Wood carving almost exclusively applies to aesthetic design over functionality. 
In some cases, you can carve large pieces of wood to make solid furniture pieces, though these are egregious processes.
You get the best beginner wood carving set to begin making wood look prettier. 
If you think about it, you can make a perfectly good table by attaching four short posts to the corners of a piece of plywood.
But who would want that? Nobody.
Wood carving can be used to make things more visually pleasing, and we are visual creatures. 
Wood carving can be applied to custom cabinetry, custom furniture, crown molding, repurposing, refinishing, and for gift crafting to give to loved ones. 
Personal gifts always bode better than store-bought items that aren't set to last long.
What Are the Tools Used in Wood Carving?

Any wood carving kit for beginners will include a variation of most of these tools. Different sizes and tool end shapes are common.
Carving Knife: Simply put, these have long, usually ergonomic handles and a small blade on the end for intricate detail and whittling wood.
Whittling Knife: This turns a rectangular blob of wood into a more shapely piece. You can whittle wood down to just about any shape before using a finishing tool. Carving knives and whittling knives are sometimes confused for one another due to the disparity in differences.
Wood Chisel: You can sometimes use these to just chip away the wood on your own, but they are usually accompanied by a rubber mallet to help remove excess wood.
Veiners: Sometimes referred to as 11# gouges, these are narrow tools to help remove small chips of wood during detailing.
Gouge: One of the most common types of wood carving tools. Gouges essentially gouge out the wood. They can be used by hand or with a mallet.
Detail Knife: Small knife with a very sharp, usually 23° angle to help expertly remove small shreds of wood and leave indents for detail. These are used in the last steps of any wood carving project.
How do You Chip a Carving?
Chip carving is a technique of wood carving, and it works wonders for detail and intricacy when you've taken care of the bulk of the wood.
Just about any wood carving knife set is going to come with a chisel for chipping. It's a must-have woodcarving tool.
Using the chisel, aim it at an angle to the piece of wood you want to chip. Use a rubber mallet on the hilt and drive it down, sending it into the wood quickly to chip it.
This method is often used in tandem with other wood carving techniques to create a finished, refined project. 
Be sure to chip at an angle (70° to 45°) to avoid splitting and ruining your wood base.
Which Wood is Best for Carving?
Wood carving kits for adults never really include this information, but they should. 
Each metal type used in different blades and wood carving tools are viable for every type of wood.
The wood you'll be using have mixed properties, and will be applied for different projects and skill levels.
Pine: Probably the best for wood carving tools sets beginners end up purchasing. Pine wood is soft, readily available, and cheap. It's something that requires a steady hand so you don't split it entirely, which is good practice (because you will inevitably use more force than you require when you're a beginner).
Basswood: For beginners and intermediates, you can make something excellent out of basswood. There's no growth grain patterns, so you can chip or whittle from every angle and it will naturally look smooth.
Aspen: Strong, durable wood that shows its marks, but is easy to sand without taking away too much and ruining the project. This is a medium cost wood that shouldn't kill your budget, even if you're new to wood carving.
Butternut: Butternut naturally looks like it's been finished and stained; it's a rich-colored wood, but it's going to cost you. Much like basswood, there's not much grain, so it will look refined without requiring additional steps.
Oak: This is probably the one you've been waiting for on this list. Oak is a hardwood, and makes long-lasting furniture that can be passed down from generation to generation. Oak is sturdy, pricey, and makes an excellent wood to use for making gifts.
Some honorable mentions for good wood types include walnut, mahogany, and cottonwood. 
These are usually either pricier or harder to find, and not the best to use unless you're a professional with lots of experience.
What Are the Types of Carving?

Terms can get thrown around and seemingly meld into one, but there are different types of wood carving. 
Some pros stick to one specific type of wood carving, and projects that pertain to them. The different types are as follows.
Chip Carving: There's not a lot of intricate detail here. A mallet and chisel are used to chip away wood to create shapes, sometimes abstract, sometimes in smaller increments to give a sort of geometric aesthetic to the project in question.
Whittling: This is every reference of wood carving in television and movies. A guy with a knife, shaving away wood in different strokes to create something. You can use multiple knives of various lengths, but this wood carving type, or stage depending on the intricacy of your project, is always about shaving wood away with a knife.
Relief Carving: Using chisels and gouges, lines are cut into wood to create the appearance of a raised photograph. This is a niche category of wood carving.
Scandinavian Flat Planing: In Scandinavia, wood carving and ice sculpting are common hobbies. They use a rougher form of carving called flat planing that allows your tool marks and divots to show in the finalized product. These are not sanded or sculpted beyond the ability of your tools; the rustic look is fantastic and allows you to gauge your own skill level.
It's About Sleight of Hand
The tools aren't going to move themselves—you'll need to put those steady hands to good use, and bring these precision instruments to the edge of your materials to carve something truly phenomenal into them. 
It starts with you, and the right kit will act as an extension of your abilities and skills that you've been building up over time. 
It's time to say sayonara to that old whittling knife and beat-up kit you've been dragging around; it's okay to upgrade and improve your arsenal while your skill improves.
Did you like the article? Please rate it: